3 Days Uganda gorilla tour to Bwindi Impenetrable Forest, home to more than half of the remaining mountain gorillas. Be prepared for gorilla trekking, the main highlight of a Uganda safari. Apart from the endangered gorillas, Bwindi Impenetrable Forest.
4 Days Wildlife & Gorilla Uganda Safari
combining the experience of meeting the rare mountain gorillas in the wild as well as a tour of Queen Elizabeth National Park, one of the best adventure places for game viewing. On this tour package, different adventure activities have been included for you to do and experience.
The 5 days Uganda primates and Gorilla safari takes you to Kibale Forest and Bwindi Impenetrable National Park. Kibale inhabits 13 primates species that include Chimpanzees, Mangabeys, Giant Forest Hog, Vervets, Black and White Colobus monkeys, Red-tailed Monkeys.
This is a 7 Days Uganda Safari combining gorilla tracking, chimpanzee tracking and game viewing in Uganda. This tour is an exceptional, authentic first-class travel experience visiting Bwindi Forest, Queen Elizabeth National Park, and Kibale Forest.
8 Days adventure safari in Uganda
taking you through 3 of Uganda's savanna parks; Murchison Falls, Queen Elizabeth, and Lake Mburo National Park as well as Kibale Forest. Apart from game viewing, many other adventures have been included on this trip such as chimpanzee tracking in Kibale Forest.
9 Days Uganda Rwanda Congo The Ultimate African Safari through Uganda,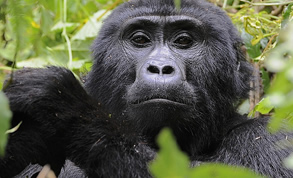 Rwanda, and Congo offer a once in a lifetime safari to track the mountain gorillas in the Virunga Region. Follow the Savannah game in Queen Elizabeth National Park and relax on the islands of Lake Bunyonyi before crossing to Rwanda for another gorilla trekking experience and later visit the Nyiragongo Volcanoes